November 18, 2016: ECGRA Grant Money Works for Box of Light Studios
Posted on November 18th, 2016 at 8:00 AM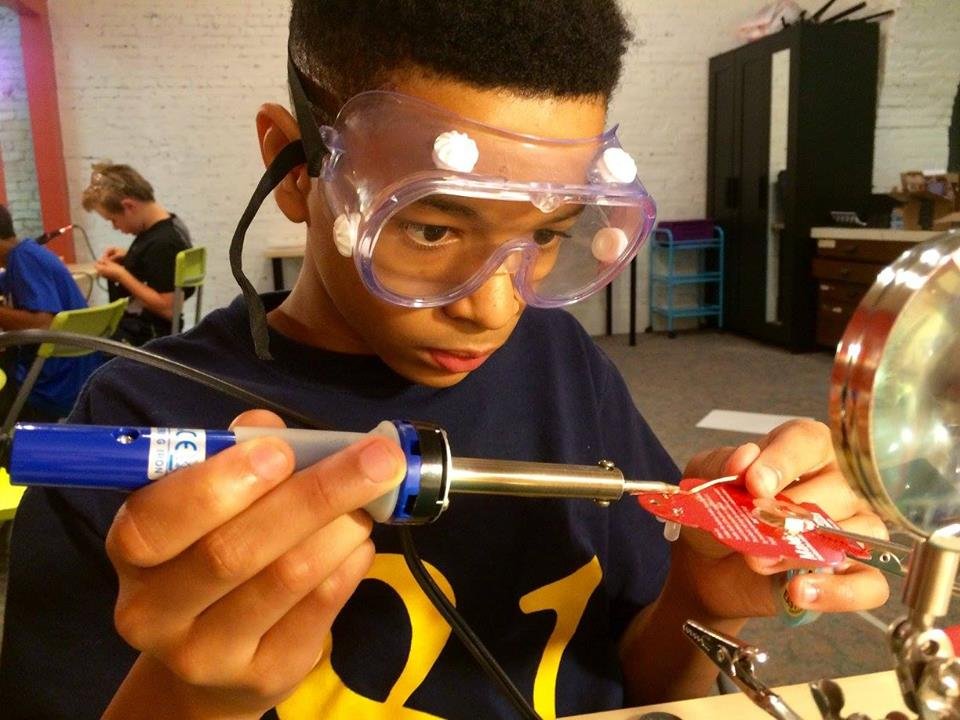 Imagination Studio Trains Next Gen Innovators
To power our region's future, Erie needs tech-savvy problem-solvers with an entrepreneurial mindset. With help from a $15,750 ECGRA grant, Box of Light Imagination Studio, directed by husband-wife entrepreneurs Jude Shingle and Annie Schmitt, is busy preparing the next generation.
Box of Light encourages youngsters to unleash their creativity and build skills in S.T.E.A.M. (science, technology, engineering, art, and math). The Box of Light team focuses on providing three key components: engaging topics through education that meet kids where they're at presented in an environment that creates a culture of inquiry. It's a one-of-kind combination for Erie County youth.
Phinneus Angelone, 10, a fifth-grader at Klein Elementary School in the Harbor Creek School District, said Box of Light is important for kids. "It teaches kids to do programming and to be creative and to have fun and to draw cool stuff," he said. Phinneus, who wants to follow in the footsteps of his physician mom, Kristy Netkowicz, studies robotics at Box of Light.
"All kids are into computers and programming and it gives them a glimpse of how things work, like 'Minecraft,'" Phinneus said, referring to a popular online adventure game.
Using local share gaming revenue from ECGRA, Box of Light transformed the former Erie History Center, 419 State Street, into a bright, cheerful open classroom where kids write code, experiment with robotics, learn animation, and work with LEGOS, all while building soft skills needed in the workforce.
Today's political, educational, and economic leaders are demanding the kind of S.T.E.A.M., team-building and problem-solving skills that young people develop in Box of Light classes, said Shingle.
Susan Holtgrefe enrolled her daughter, Marcie, 11, in Box of Light because schools don't have the "curriculum or the ability" to serve kids who are "naturally tech-oriented," she said. If schools skimp on robotics, "It's like not having a soccer league for kids who are athletically oriented," said Holtgrefe. Marcie, a sixth-grader at J.S. Wilson Middle School in the Millcreek Township School District, already writes computer programs in several languages.
"I guess there's a curiosity gene. It pops in," said Holtgrefe, who also coaches a CyberPatriot team in Erie. Teens who compete nationwide in CyberPatriot assume the role of IT specialists at a small company, where they must identify and solve cybersecurity issues.
"Look at how engaged they are," said Holtgrefe, as she motioned to the workspace where her daughter and Charlie Hersch, 12, a seventh-grader at Walnut Creek Middle School, were troubleshooting a faulty program for their wall-riding robot.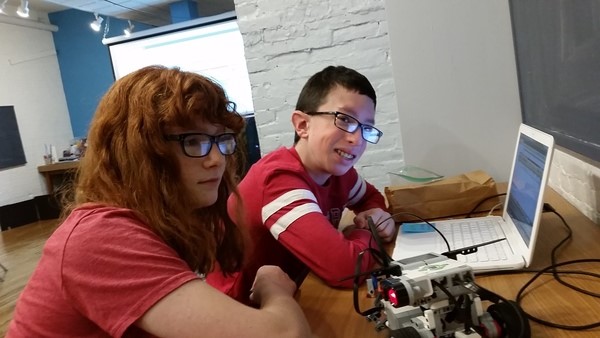 "Here we are interested in kids defining their own problems and solutions to those problems," he said.
To solve complex technological problems, scientists and engineers might have to apply things they've learned from the natural world. This is known as "biomimicry." For example, to enable a robot to scale a wall, the person writing the program might study how spiders or geckos climb walls, he said.
Box of Light, which began in Bloomsburg, Pa., got its start in Erie in 2013 with help from The Erie Community Foundation and Erie Arts and Culture. ECGRA's Human Services Grant made in 2015 in partnership with The Erie Community Foundation allowed Box of Light to build out its "beautiful studio," Shingle said.
In Erie just last year, Box of Light offered 24 unique Saturday classes (6 weeks long), 28 summer camps (1 week long), 60 workshops/events (1-time activities), and hosted 20 field trips for area schools and organization. Since 2013, they have served 1,900 students in Erie County. Learn more at www.BoxofLight.org.